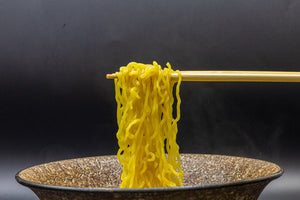 Noodles of MISO RAMEN SET and SHOYU RAMEN SET
Nishiyama Seimen founded in 1953 was the first company in the World to manufacture yellow wavy noodles for ramen.
Currently, their noodles are used by more than 3000 restaurants in Japan.
We manufacture more than 500 types of noodles with different characteristics such as aroma, elasticity, aging condition and chewy texture.

In this article, we will introduce two types of noodles directly imported from Japan that you can purchase in our online store.
Noodles of MISO RAMEN SET



Noodles made of 100% Hokkaido wheat.
Created with a unique formulation and manufacturing method by Nishiyama Seimen, these noodles have a bright surface
and elastic texture that are characteristic of Sapporo ramen.
Their waviness then matches great with the miso ramen soup.
Eggs are not used, so they are ideal for VEGAN ramen.
Noodles of SHOYU RAMEN SET

These noodles made from 100% Hokkaido wheat, are an original creation of Nishiyama Seimen.
Carrying the quality of Hokkaido wheat, this product has a grainy and chewy texture.
It goes very well with a soy sauce (shoyu) flavored soup, and you can strengthen the texture
and flavor of the noodles by boiling them a little harder.
Eggs are not used, so they result VEGAN friendly.
Fancy some Ramen?
Order MISO RAMEN SET
here
now.
Order SHOYU RAMEN SET
here
now.
---