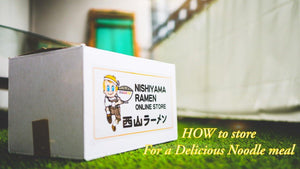 How to store at HOME
In this article we would like to recommend you how to store noodles which were purchased on our online shop so that you can enjoy them at their best.
Please read to the following article for the characteristics of Nishiyama Seimen noodles.
Condition of noodles when delivered
(if no problems during the delivery)
Noodles are shipped frozen inside a Styrofoam box with an ice pack. They will be delivered the next day and in a refrigerated condition. They can be kept in the fridge for a maximum of 14 days.
Cold storage
With storage in the refrigerator, the temperature changes inside the refrigerator and affects the noodles as well.
Please store the noodles in the fridge where the temperature can be kept constant as much as possible.
---