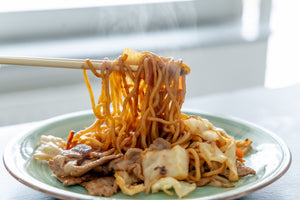 Kids love it! Yakisoba with ingredients from supermarket close to your home.
A recipe created by Sapporo Nishiyama always seeking the best quality in corporation with other ramen restaurants since 1953.
Ingredients
Sauce
Oyster sauce : 30ml
Soy sauce : 15ml
Ketchup : 45ml
White wine : 15ml
Sugar : 5ml
Pepper : a pinch
Sesame oil : 5ml
Yakisoba
Water : 30ml
Pork shoulder loin or ribs(shredded) : 80g
Cabbage (diced) : 100g
Carrots(shredded) : 60g
Onion(shredded) : 1piece
Ingredients of your choice
Step 1. Making the sauce
Put all ingredients for the sauce into a bowl and stir.
Step 2. Making the yakisoba noodles
1. Loosen the noodles IN THE pack.
2. Put the noodles in a heated frying pan, pour water over the noodles and fry * No oil required

3. Spread the noodles inside the pan and fry until they are slightly browned (about 3 minutes).
4. Put the stir-fried noodles onto a plate.
Step 3. Final steps
1. First fry the pork well then add the vegetables in the frying.
2. After the vegetables are cooked, put the noodles over them.
3. When the vegetables are steamed, sprinkle the STEP1 sauce and fry for about 30 seconds.
4. When the sauce is on the whole noodles, serve them on a plate and enjoy it!
Fancy some Yakisoba?
Order it here now!
---