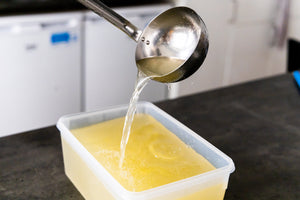 Make yourself a delicious ramen soup at home!
A recipe created by Sapporo Nishiyama always seeking the best quality in corporation with other ramen restaurants since 1953.
How to easily make a delicious ramen soup at your home!
This week, we will introduce recipes for simple ramen soup that you can easily make at home. We select ingredients that are easily available at local supermarkets.
* This recipe uses a lot of meat, so if you want to make it more seriously, please increase the proportion of bones.
Ingredients(approx. 10 portions)
Chicken : 1 piece (1 kg)
Chicken wings : 1,5kg
Welsh onion : 1 piece
Ginger : 20g
Water : 2,5L
1. Cut welsh onions and ginger. (use the green part of welsh onion)
2. Put water in a pan and bring to boil over high heat.
Then, put the whole chicken in the boiling pot.
3. After it, add the chicken wings.
4.When it boils again, reduce the heat to low and simmer.  
    (Refer to the intensity of the boiling bubbles to understand the fire power. Please also watch the video below)
5. Keep the boiling water surface clear.
6. Stew for another hour, continuing to keep the water surface clean.
7. Add welsh onion.
8. Then ginger.
9. Simmer everything for 30 minutes.
10. Finish!
Fancy some Ramen?
Order our Sapporo ramen here now!
---